Merry Christmas! Santa Claus is super busy this time of year. He wants to deliver wonderful gifts to kids around the world and he needs all the help he can get. Take your MINDSTORMS EV3 kit and make Robot Santa – the real Santa's robotic little helper.
Besides the bearded Santa, this merry robot features a joyful flying reindeer and a sleigh with remote control.
At first glance, it almost seems like magic, but in reality, the sleigh is powered by two large EV3 motors, which propel small wheels. With their help, the sleigh can go forward and turn left or right (you decide!), to conquer all tricky turns on its way. The third, medium motor moves both robot reindeer and Santa, making them look pretty excited about this winter ride.
Imagine how splendid they'll look carrying colorful gifts under your Christmas tree!
How to complete Santa Robot¶
The best way to complete this seasonal robotics lesson plan is to watch and follow all videos below. This guarantees learning AND having fun.
Start watching from part 1 to enjoy a fully rewarding robotics lesson. Together with our educators, you will learn how and what people around the world celebrate in winter. Once you finish build the robot, go to part 3 to understand all of its mechanisms and learn which elements can be used in programming.
In part 4, you will create a cool program that allows you to control your Santa remotely with arrow keys. When the code is done, we will test this program together!
What you need for this project¶
RoboCamp building & coding instructions. All available for free in the videos below. For the interactive version and access to more robots, go here.
LEGO Education MINDSTORMS EV3 #45544 bricks kit. One kit is enough. Check if you have the Home or Education version in this comparison.
Scratch 3 with extension LEGO MINDSTORMS EV3. Completely free. To add an extension, enter the coding area and click the icon in the bottom left corner.
Who can make this robot¶
Anyone who enjoys assembling bricks and bringing robots to life.
The official age recommendation for MINDSTORMS EV3 is 10 years old and older. Scratch 3 is appropriate for kids around the age of 8 and up.
However, remember that RoboCamp's Santa is not necessarily a solo project. If you have a younger child excited about robotics, assist them along the way to make this robot together.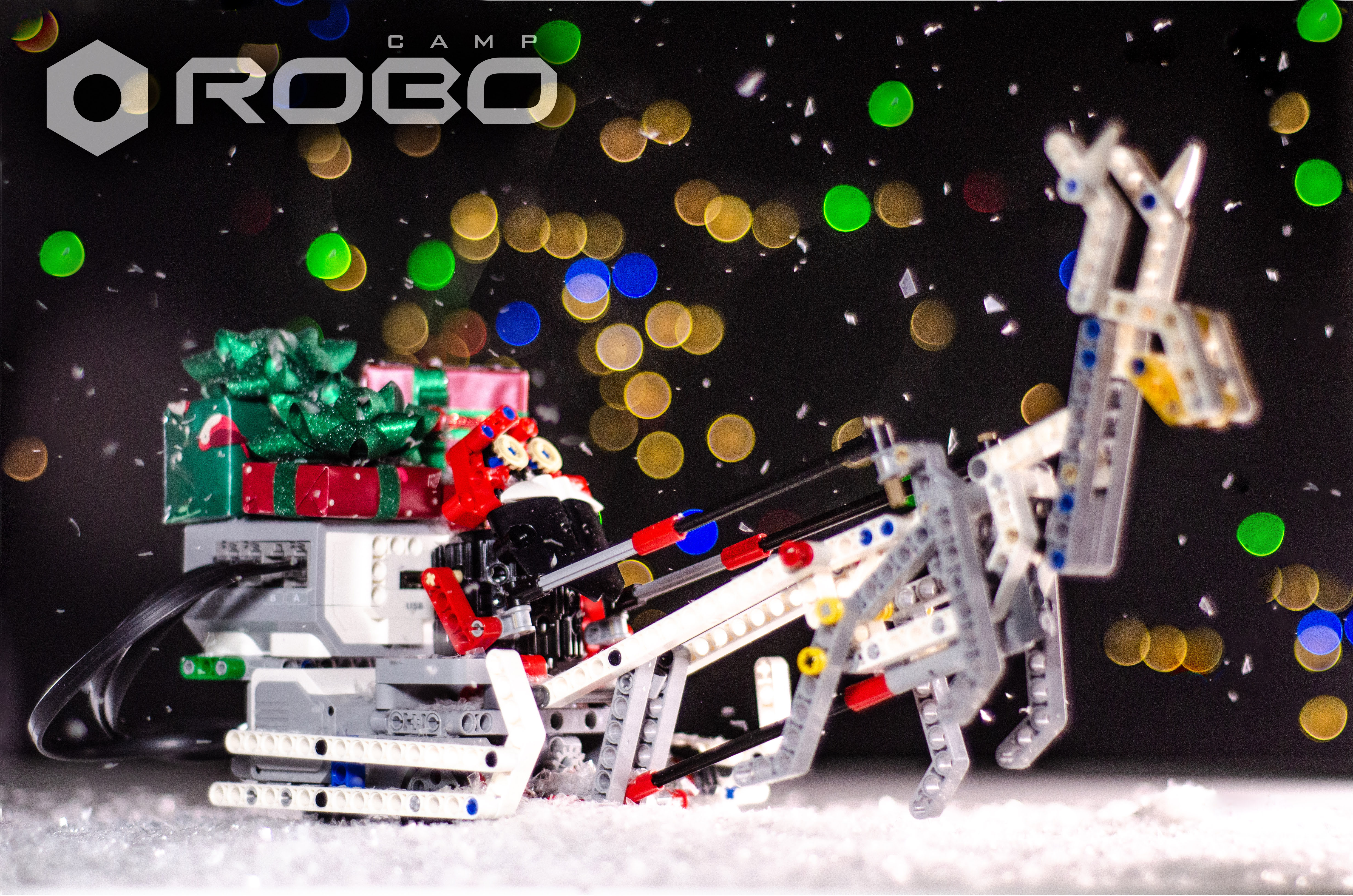 More robots with instructions¶
Learning by creating robots is productive, rewarding and fun. You can easily keep on developing your STEAM knowledge and skills with more lesson plans from RoboCamp.
You can get access now or contact your school to introduce robotics into your kids' classroom.
Are you ready?
Magical robotic Christmas is about to begin…
Lesson & instructions¶