In December 2022, LEGO Education launched a new version of the SPIKE app, which is necessary to program SPIKE Prime and SPIKE Essential robots. At the same time, the previous app was renamed, which caused some understandable perplexity among users.
Let's clear up the confusion.
The latest release is the 3rd version of the SPIKE app. The 1st version allowed users to program only SPIKE Prime electronics, and was ultimately updated to the 2nd version with programming options for SPIKE Essential.

The 2nd app version, previously known as SPIKE™, now renamed to SPIKE™ Legacy, still exists and works as usual. SPIKE Legacy will be officially supported by LEGO Education until the end of June 2023.
The newest 3rd version of the app is called SPIKE™ 3. The interface is identical to SPIKE Legacy. There are several differences in Word Blocks, the Bluetooth connection is slightly faster, but you will also notice some shortcomings. At the moment, you can't use Python in this version.
Both apps have downloadable and browser versions. You can access browser version for SPIKE Legacy here, and SPIKE 3 here. However, the downloadable apps have had fewer issues over time, so we recommend sticking with them.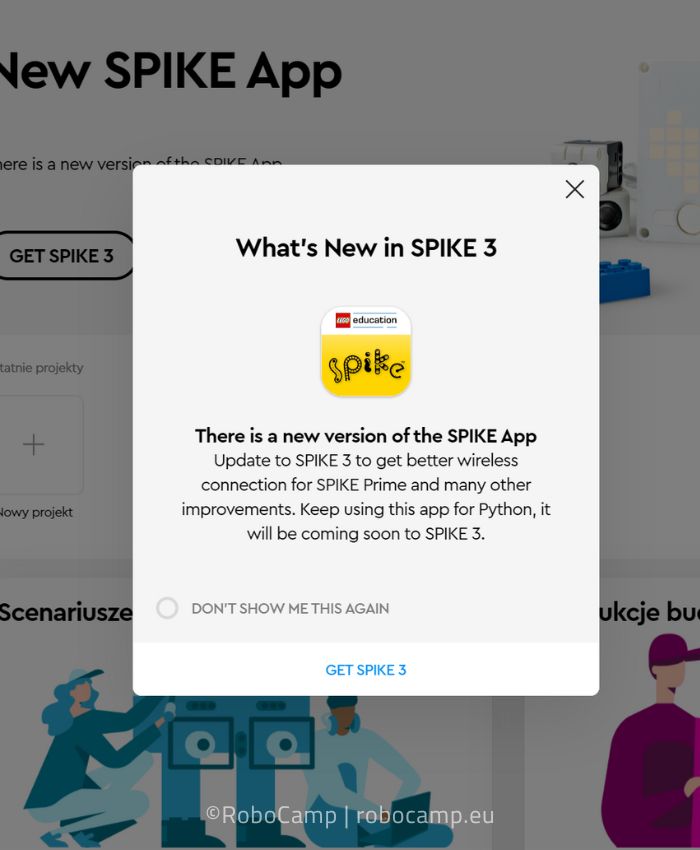 The 2nd app version, SPIKE Legacy, and the newest 3rd app version, SPIKE 3, are actually two separate apps. You can have both of them installed on your computer, but you cannot run them simultaneously. The same applies to the browser versions.
As a consequence, you could theoretically program your SPIKE set in two different versions of the SPIKE app.
There's one catch.
SPIKE hub can be compatible with ONLY ONE version of the app.
That's because SPIKE hub can have only one operating system installed at a time. And each app version requires a different hub OS.
In practice, your hub will execute programs made EXCLUSIVELY in one of the two SPIKE apps, depending on the OS it has installed. If your students create a program in SPIKE™ Legacy, they won't be able to run it on a hub updated to the SPIKE™ 3 OS. And vice versa, SPIKE™ 3 programs won't run on a hub that was not updated with the latest OS version.
Whichever app you use must match your SPIKE hub OS.
Changes: Word blocks in SPIKE 3¶
The new app comes with some changes, most of them minor, but may be surprising if you're caught unaware. That's why we're listing the most significant changes in SPIKE 3 Word Blocks below.
Fewer complex Movement blocks, use two separate blocks instead for the same result
Matrix in the Light tab is available in 3x3 for SPIKE Essential and 5x5 for SPIKE Prime
Hub roll and yaw in the Sensors tab removed
Loudness blocks removed
Changed hub faces: top is the white surface, back is where the USB port is, front is where the speaker is, bottom is where the battery is, left and right are seen when looking at the front
Python programming unavailable, announced to come in 2023
No changes were made to Icon blocks.
Thank you to LEGO Education team for providing us with a helpful list.
When to update SPIKE¶
Many users have impulsively updated the app to the new version right after seeing the automatic pop-up message shown upon launch.
If you are a teacher and haven't done it yet - there's no need to hurry.
At the moment, we recommend to keep using SPIKE™ Legacy and not update the hub OS.
Why? The new app does not introduce any revolutionary functionalities, does not fix any persistent errors, but it does make programming in Python impossible. Teachers must dedicate substantial time to update all the hubs and update the apps on all school devices.
What's more, new apps from LEGO Education have a habit of introducing new bugs and errors - which probably have not yet been identified, much less fixed.
Updating the app and the hub now is a good idea for individual users, or those who really enjoy experimenting with new software.
Eventually, all users will probably have to switch to SPIKE™ 3. SPIKE Legacy will be officially supported until the end of June 2023. Nonetheless, waiting several months until all functionalities are available, all bugs are found and fixed, is the better option in our opinion.
RoboCamp lesson plans will also support SPIKE Legacy until the end of June 2023. After this date, our team will introduce small changes to the relevant programming instructions, so that all the Word blocks match the ones available in SPIKE 3.
What if you have already updated the app and the hub, but want to go back to the previous versions?
No worries, it's still possible.
How to check your SPIKE version¶
Before you install or change anything, make sure you know what version of the app you currently have and what version of the OS is installed on your SPIKE hub. This way, you will avoid mistakes.
Remember that the app and the hub must be compatible with each other to work.
Check app version¶
Open the app on your device and look in the upper left corner. This number indicates what version of the app you're using.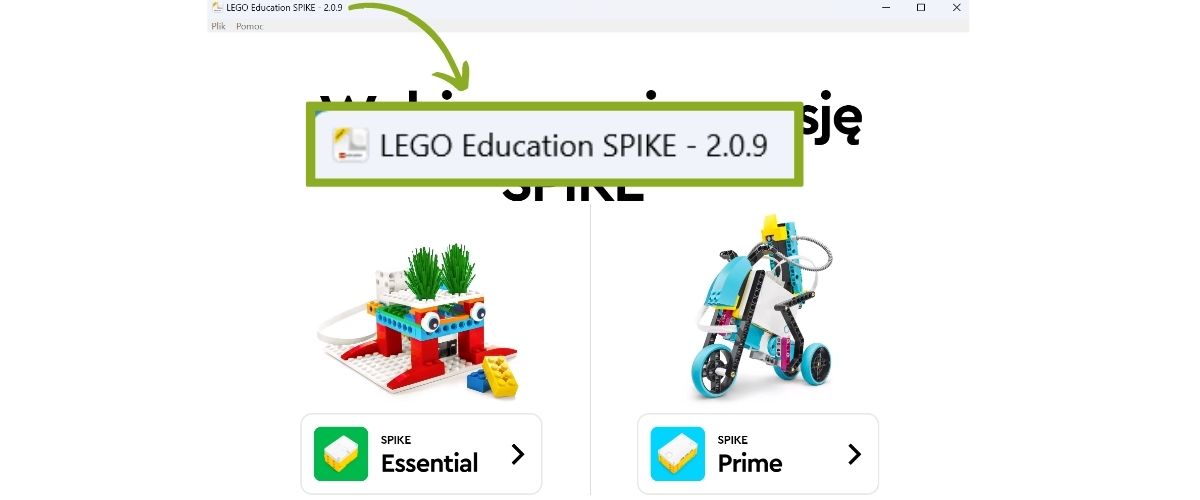 Number that starts with '2' stands for the older app version, SPIKE Legacy
Number that starts with '3' stands for the newer app version, SPIKE 3
Check hub OS version¶
To know whether your hub is compatible, you need to check the OS version installed on it. Remember that SPIKE hub can be compatible WITH ONLY ONE app of the two available. This basically means that the hub connects to and runs programs created in one specific app.
There's a simple way to check it.
Turn your hub on by using the power button. Look at the color of the light around it.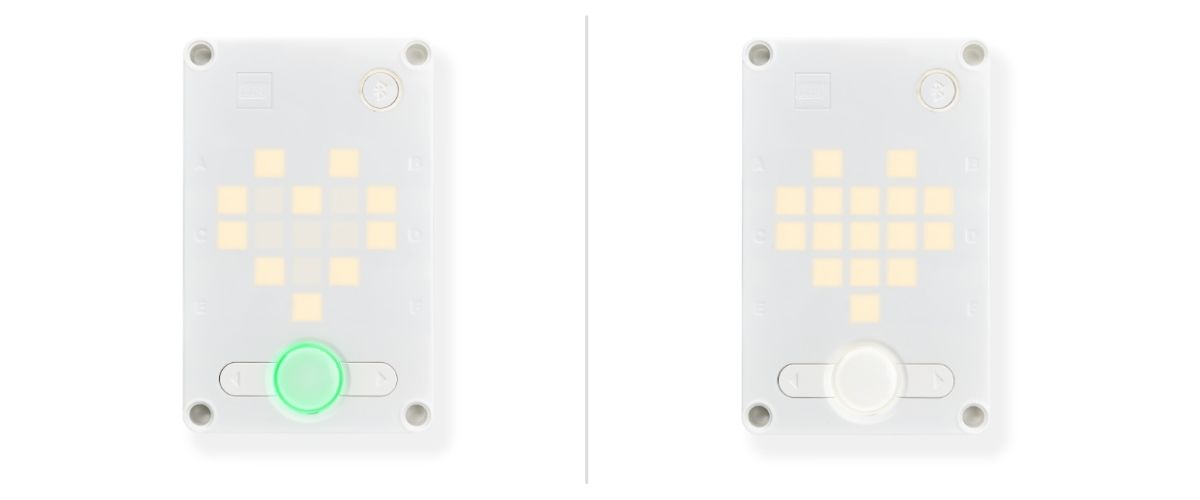 White. Hub has the older OS version installed and is compatible with SPIKE Legacy
Green. Hub has the newer OS version installed and is compatible with SPIKE 3
How to return to the previous version¶
To get the previous version of the app, which is SPIKE Legacy, download it from Microsoft Store or from the official LEGO Education website. Once the installation process is complete, you can launch the app.
To downgrade SPIKE hub to the previous OS version, you need a bit more time, Chrome browser, and the USB cable included in the SPIKE Prime set. Good news is, LEGO Education has made the process pretty simple. Go to https://spikelegacy.legoeducation.com/hubdowngrade/ and follow the steps explained there.
Important note! Try not to switch the HubOS version too frequently. According to LEGO Education, it may damage the hub. Our tests have not confirmed it, but so far we have upgraded and downgraded HubOS on the same hub less than 10 times.

The official method above is intended for ChromeOS and macOS, but it's possible to use it with Windows as well! Our team successfully tested it on Windows 11, so we can confirm that it works. You just need to manually install a driver for the hub.
Look on the picture below to see how SPIKE hub shows up with the driver manually installed. If you see nothing in this box while your SPIKE hub is in Update mode and properly connected via USB cable to the computer, you probably don't have the driver installed.
If you're not sure how to do it, follow the instructions below.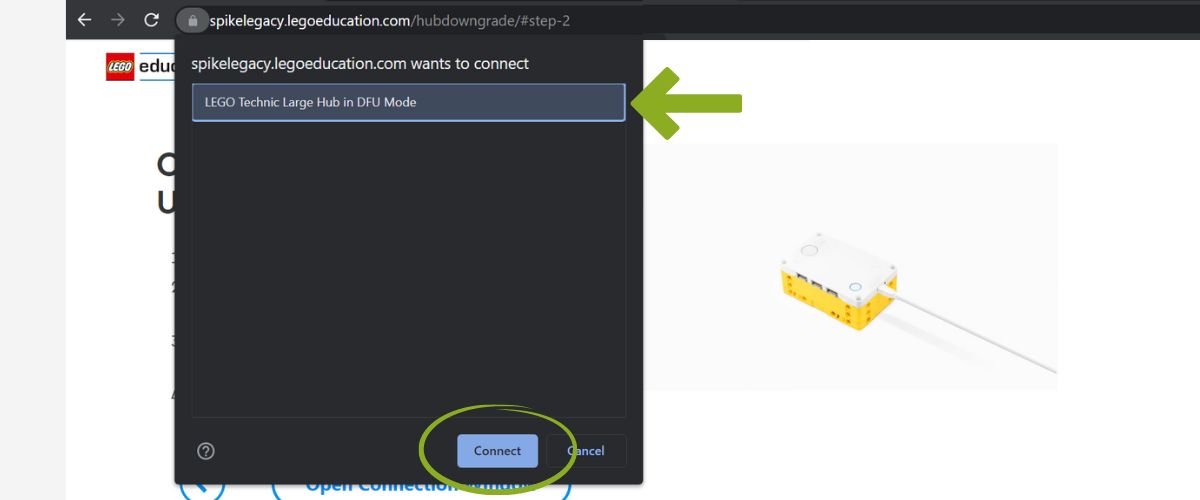 How to install driver for SPIKE hub (Windows 11)¶
1. In the searchbox on the taskbar type Device manager. Select it from the menu to open.
2. Look for Other devices > LEGO Technic Large Hub in DFU Mode.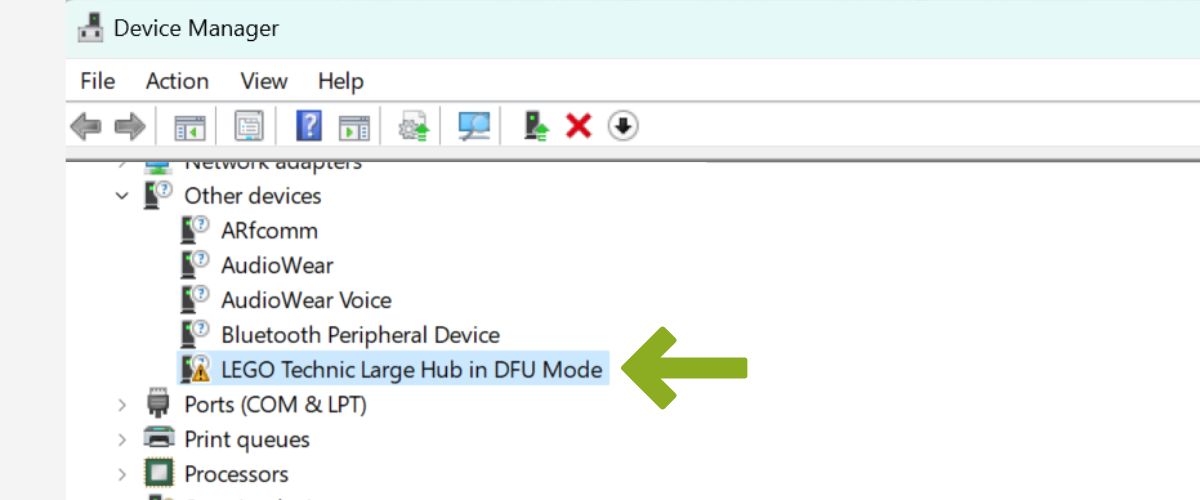 3. Right-click it and select Properties.

4. Go to the Driver tab and click Update Driver.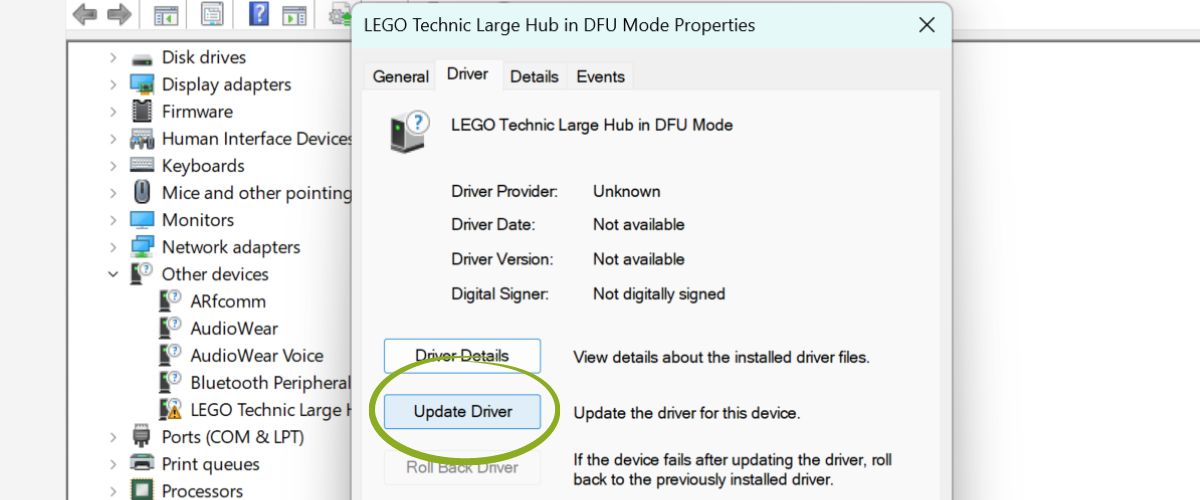 5. In the pop-up window select Browse my computer for drivers.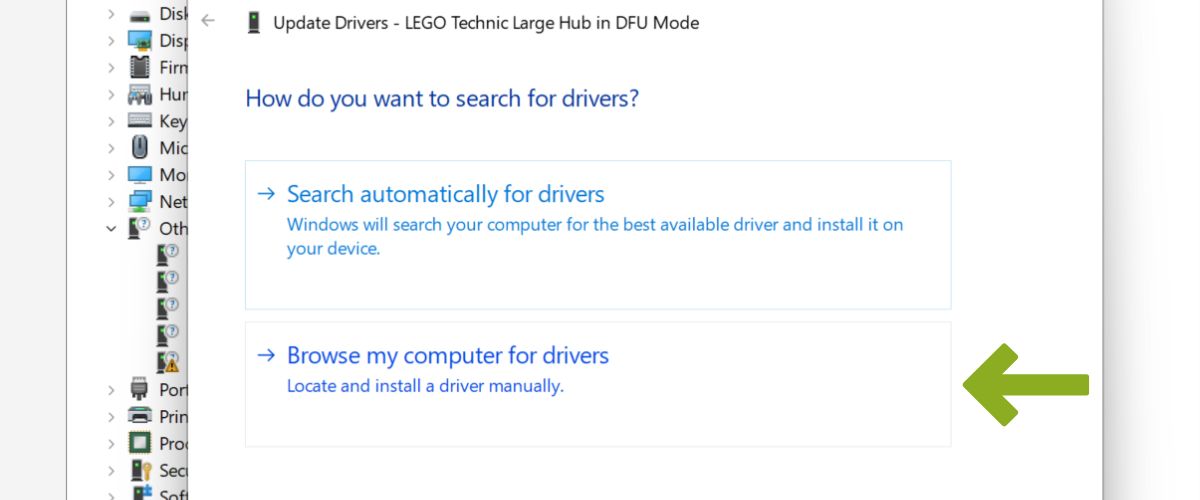 6. Next, click Let me pick from a list of available drivers on my computer...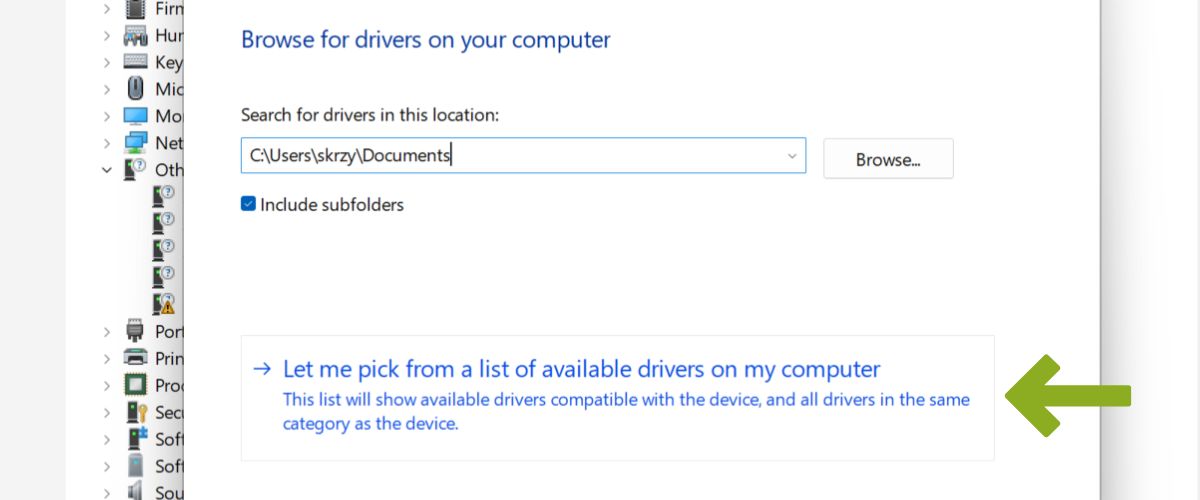 ...and select Universal Serial Bus devices. Click Next.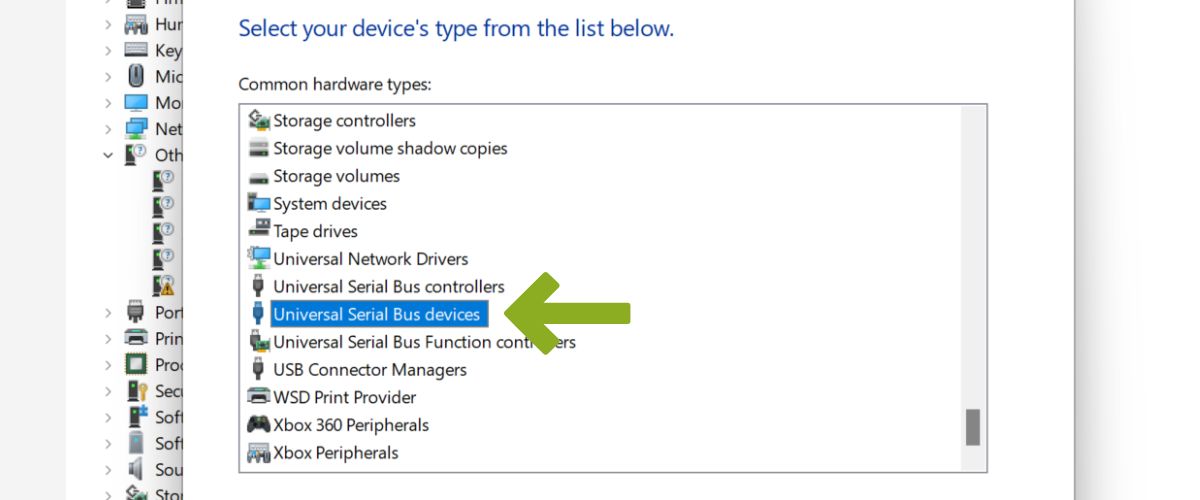 7. Select twice WinUsb Device and WinUsb Device as the device driver.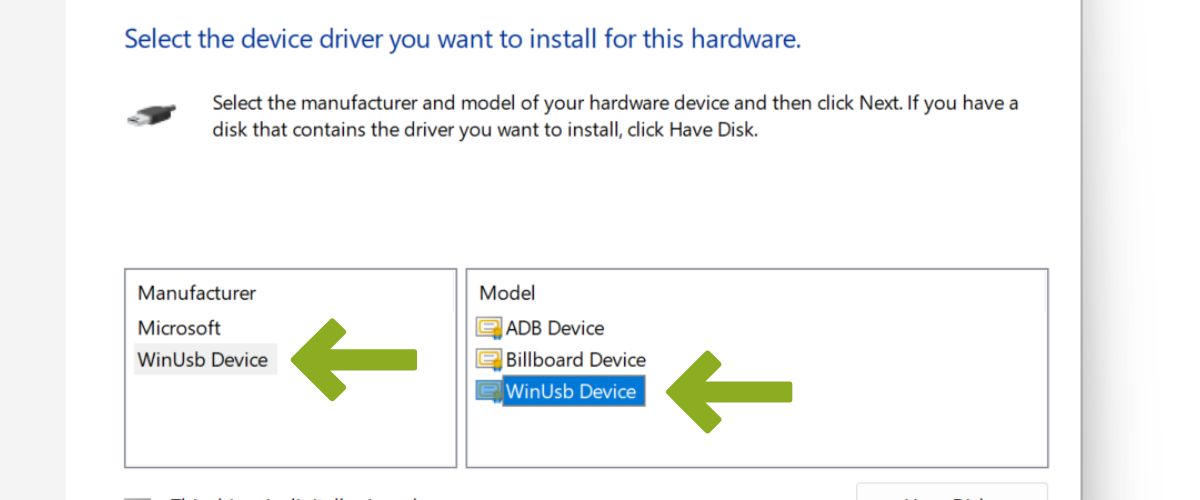 8. A warning about installing the drives should appear. Select Yes.

9. After the installation process is complete, you will see this message. Close it.

10. You can now return to the official downgrade page by LEGO Education and downgrade your hub to the previous OS version