Frequent shortages and purchase limits in the official LEGO shop make it clear that SPIKE™ Prime, a set for learning STEAM and robotics, has become the unofficial favorite of mainstream education.
Do the advantages of SPIKE™ Prime so clearly outmatch the cons?
For the last 2 years, our team has been testing this kit from every angle. This SPIKE Prime review presents advantages, weaknesses and possibilities of this set in the context of primary school use. It is based on our own experiences and feedback from our clients. Read it before you shop to make an informed decision. If you already have SPIKE Prime at school, read to find out the real teaching potential of this tool.
What are pros and cons of SPIKE Prime? What's the best time to start using it? How does programming in Python work with robots? Should you buy something else?
We answer all these questions and more, as we examine every key aspect of this kit.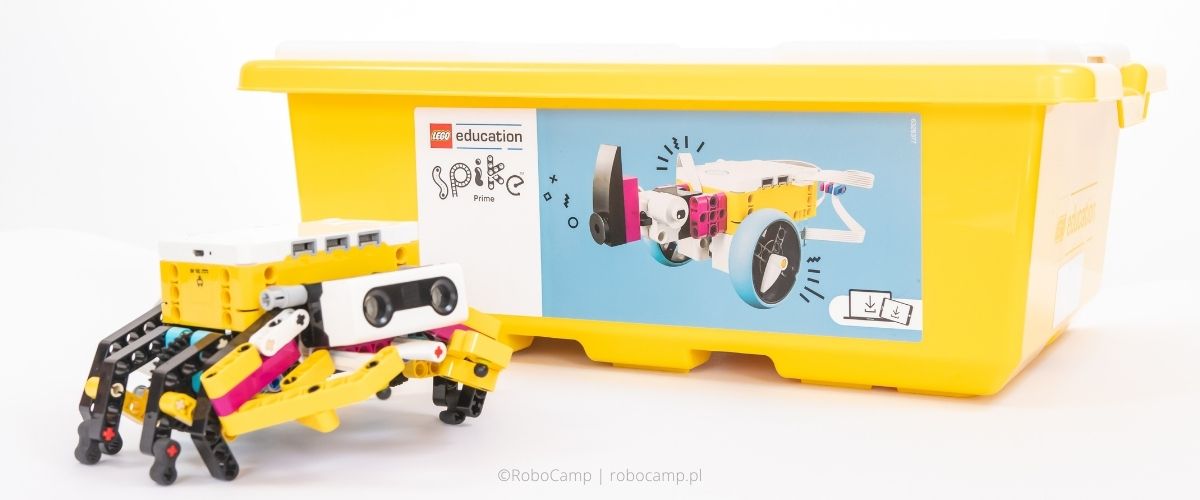 Product launch and beginnings¶
Although SPIKE™ Prime #45678 by LEGO® Education has been on the European market since 2020, the set has only recently begun to gain popularity.
Its premiere went by almost unnoticed, clouded by the outbreak of COVID-19 pandemic. When students and teachers had to suddenly adapt to online classes at a moment's notice, few schools thought about expanding their robotics lab. At the beginning, there was also some confusion about the recommended age and proficiency level of the user.
Chaos worsened when the producer announced the retirement of MINDSTORMS EV3 Core Set, designed for a similar age group and used by schools and robotic clubs for many years.
Eventually, students returned to schools, and the product message became clear.
Officially, SPIKE™ Prime is part of the LEGO® Learning System, a means of learning STEAM by completing various projects with the help of four different LEGO sets and the SPIKE™ programming app. Its essence comes down to learning through play, a good and proven approach to education. Honestly, the idea is as old as the LEGO brick, except this time it's wrapped up in new products and new slogans, attractive especially for the public education market.
Unofficially, SPIKE Prime is the most important, best thought-out and by far the most valuable part of the LEGO Learning System, especially in the context of learning STEAM and robotics in elementary school.
What makes us say that? Let's explain.
Building¶
Box and unpacking¶
The first thing that catches your eye is the bright yellow color of the box. The bright color distinguishes the SPIKE™ series from earlier LEGO® Education series, so you're not likely to mistake the box. What's more, you can easily find it in the storage room.
As with previous LEGO Education products, the plastic box is durable and convenient to use. It has two main functions: storing and sorting bricks. The box is quite large, identical in size to MINDSTORMS EV3 #45544, fortunately, the boxes can be stacked one on top of the other. Inside you will find a proven and improved solution for sorting parts – two trays with compartments marked with stickers.
First, place the stickers on the the trays according to the instruction in the box. This simple upgrade facilitates sorting bricks and improves the entire experience of building robots. Stickers are also provided for electronic parts, but these are used for identification. When you work with many kits at once, the ability to identify a specific electronic part is invaluable - so do not forget to stick them on!
Then you need to unpack all the bricks and elements. Since most of the parts have already been sorted at the packing stage, this task goes by quickly. Just empty the contents into the appropriate tray compartment.
What to do with the bricks from the bag no. 13? Save them for later. Bag no. 13 contains spare parts that may break, wear out, or get lost. Best to store them in a separate place until they are needed.
To prepare one set, i.e. mark the compartments and electronics with stickers and sort the parts, you need less than 30 minutes. You can do this together with your students, and use the remaining 15 min. of the lesson for a brief introduction to the programming app.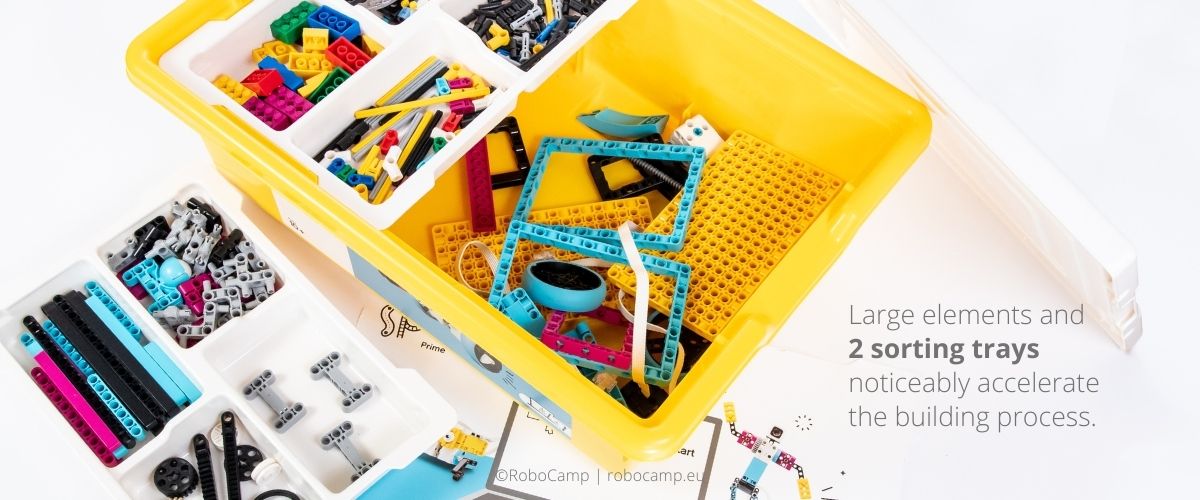 Building parts¶
The building bricks are the backbone of every robotics kit. They decide what mechanisms and robots can be constructed, as well as how much effort and time it takes to build them. Bricks make up the potential of the set. Poorly chosen, they can spoil the whole product.
Fortunately, for education and school use, the building bricks of SPIKE Prime were selected just right.
The kit contains a total of 528 parts. Enough to build all kinds of interesting structures, but not enough to overwhelm you. Most of them are from the Technic series, where the connection system is more advanced and requires pins or other connectors. Because the kit is recommended for children that are at least 10 years old, this choice is justified.
Below the trays, you find several larger "pre-assembled" parts, especially helpful during regular school lessons with SPIKE Prime, because they significantly speed up the process of building robots. These include the Technic Base Plate, which can become the foundation of many structures, or the Technic Frames in three different sizes, which makes it possible to quickly build larger and more stable models in less time.
Thanks to these parts SPIKE Prime is the first LEGO robotics kit that can be realistically used to conduct a full robotics lesson (introduction, building, programming, testing) in primary school in just 45 minutes. Such a short lesson is, unfortunately, likely to limit the use of this set. Nonetheless, students will gain practical knowledge and complete a project during one lesson, which brings valuable educational benefits.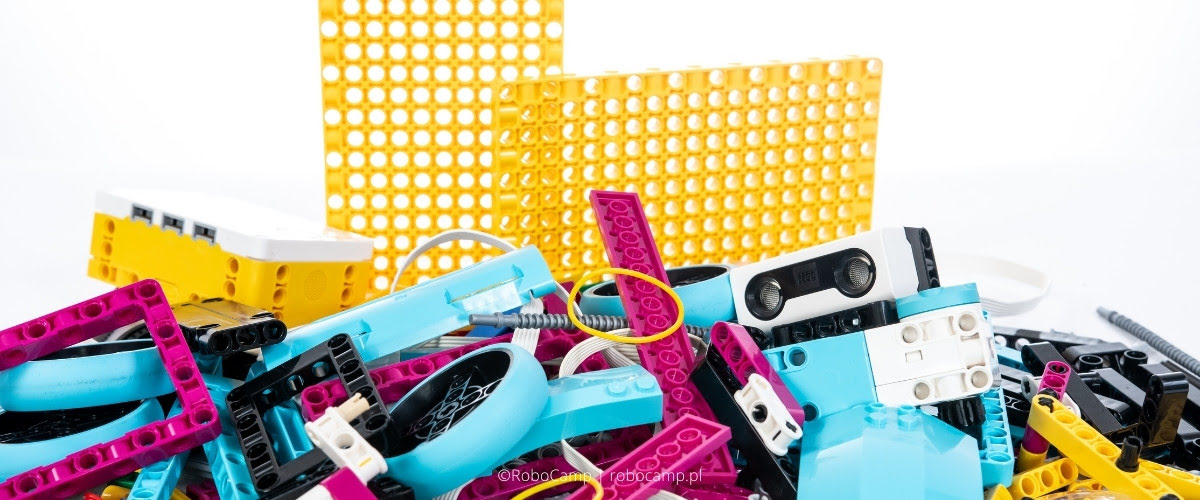 However, if you are working with younger children, note that it's a bit more difficult to join larger Technic elements together. It requires more coordination and strength, which sometimes results in accidental damage to the connectors. To avoid losses, draw the attention of your students to specific construction steps and offer your help.
The colors of elements show another right decision made by the producer. Is it important?
Yes! Although colors do not affect the building possibilities of the kit at all (except for cooperation with the color sensor), they are of great importance for users - i.e. kids. Colors make it easier to distinguish the elements in the box, they shape the aesthetics of the models and help children answer the question: is this something for me? SPIKE Prime base colors (black, gray, turquoise, purple, and yellow) are clear, friendly, encourage unconventional connections, and do not discriminate, which may lead to an increased interest in robotics among students.
Electronics¶
SPIKE Prime contains 7 electronic components: 3 motors, 3 sensors and, of course, the hub.
One might say it's too few electronics, another would argue that it's too many. Everything depends on your goals and expectations. To assess the real value of the electronic components of an educational tool, you must remember that the most noteworthy is their potential in the classroom.
What criteria to consider?
Electronic components must work exactly as specified by the producer.
They must be easy to use, i.e. to attach, detach, and to program.
They should be durable and trouble-free.
Only after the basic criteria have been met, you can weigh their capabilities: the range and time of operation, dimensions, compatibility, communication range, means of connection, etc.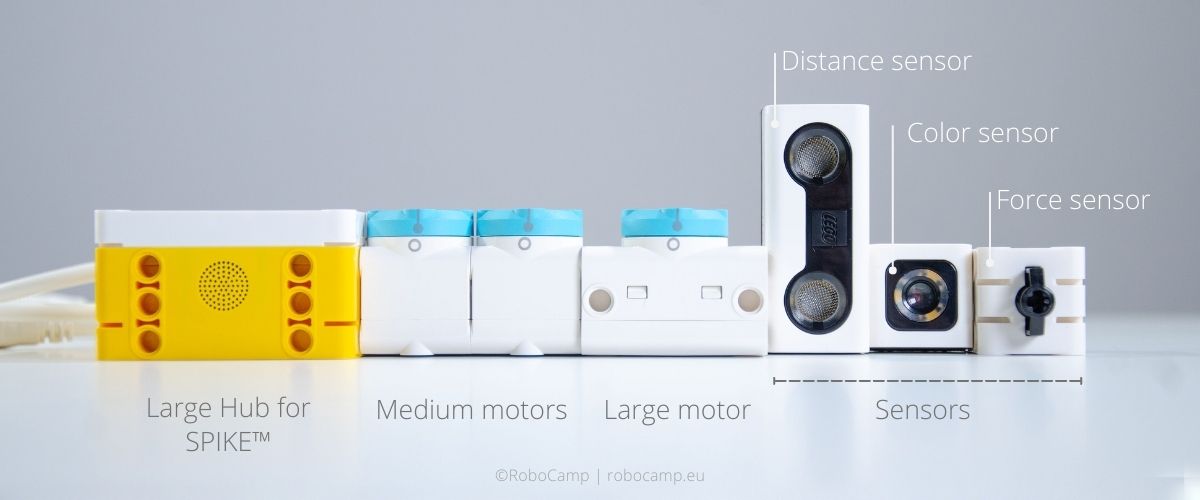 Electronic elements of SPIKE Prime ace all the basic criteria. Working with them is pleasant and hassle-free, which is crucial when working at school with limited lesson time. Three sensors together with three motors allow you to design constructions with a variety of abilities, almost unlimited, because all the elements can be connected to the hub together. Most of them are either improved versions of their predecessors or electronics with new, additional functions (force sensor).
What's clearly visible from the electronics of the set is that the LEGO team learns from mistakes, and decided to use the experience of the last dozen years to create the best educational tool to date that is also fun to use.
Even the best set has small drawbacks.
Cables for electronics are now more flexible, but also permanently attached to individual elements. Theoretically, they are more resistant to failure, but if the cable breaks, you will have to replace the whole, more expensive element, not just the cable.
The hub has a lot of capabilities, but it is also large, which makes it more difficult to use. Some of its functions, like the accelerometer or gyroscope, would be more practical as separate, smaller components.
Also, there is no programmable display. The Light Matrix on the hub has a pleasant aesthetic, but it's small. Most of two-digit numbers displayed on it must be scrolled, which is problematic. The readings must either change infrequently, or be displayed on a screen of another device, a computer or a tablet.
Now, let's look at the electronic elements of SPIKE Prime one by one.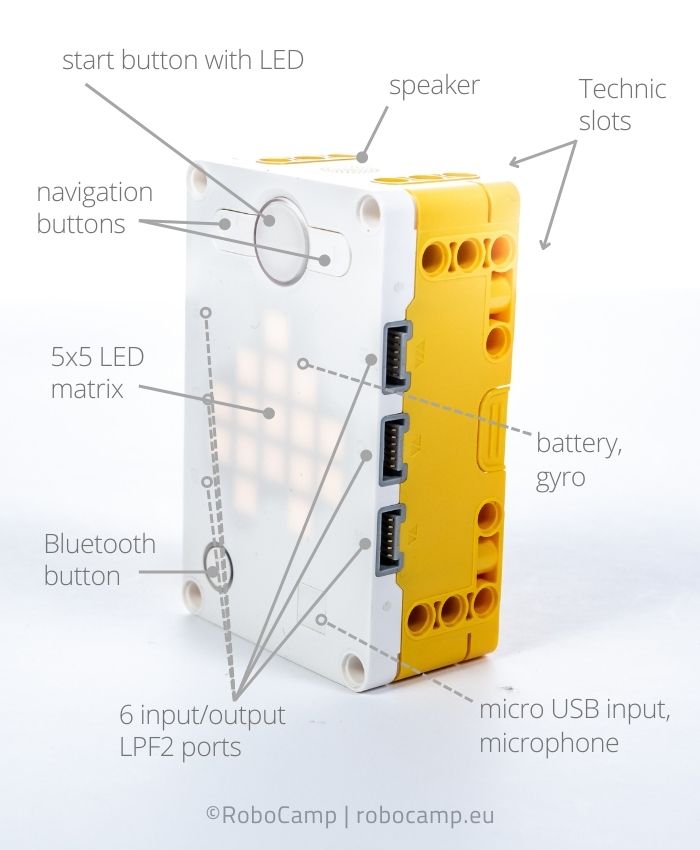 Large Hub for SPIKE Prime is an essential part of any robot created from this set. It is quite big in size, especially compared to the hub from SPIKE Essential, but it also has more features. At first glance, you can see 6 input/output ports, a micro USB port, 2 programmable navigation buttons, and a matrix of 5x5 programmable pixels with controlled light intensity.
What hides inside? Microcontroller with 32 MB memory to store 20 programs, as well as a very useful 6-axis gyro, accelerometer, speaker, microphone, and battery. The battery recharges when you connect it to the computer with a cable.
What's important, the hub can execute programs from the computer's memory or its own, so the robot can move freely, untethered by a cable.
Motors are necessary for moving, and you get as many as three of them in the set: 2 Medium Angular Motors and 1 Large Angular Motor. Each has a built-in integrated rotation sensor with an accuracy of up to 1 degree and the ability to measure the absolute position, which can be used when programming. The zero motor position is marked on the case, which makes calibration easier. True to its name, the large motor has more power and can handle more load.
Time for the ultrasonic Distance Sensor. According to the producer, its range of operation is 1 to 200 cm, but in our tests the sensor shows 4 cm even at a smaller distance. Despite this, the distance sensor is quite accurate, as the error margin is approx. 1 cm. Around the transmitter and the receiver, there's an interesting feature. 4 LEDs can be programmed to simulate the robot's eyes and facial expressions.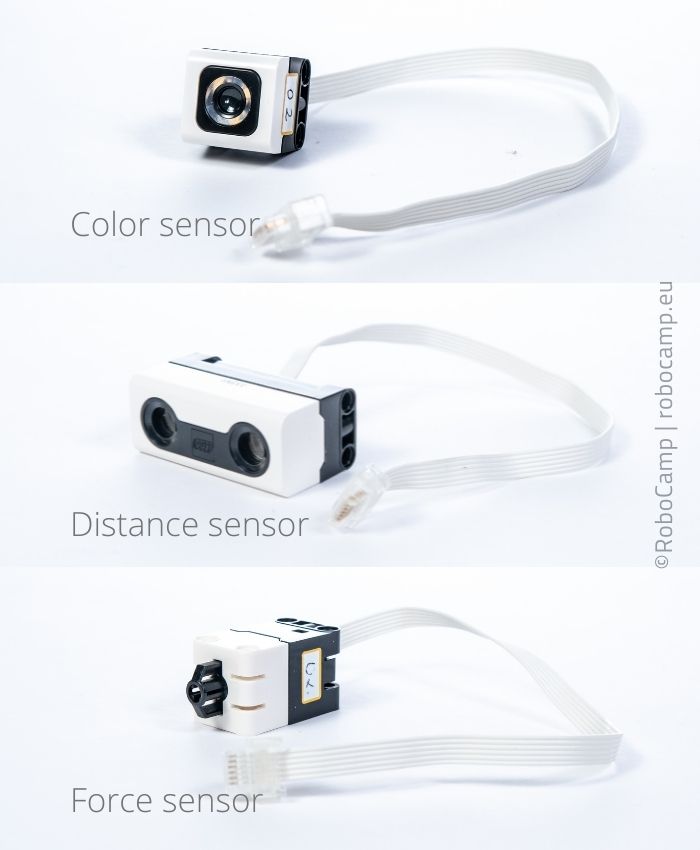 Color Sensor can detect various colors or measure the intensity of reflected light. It even allows you to measure ambient light, but this mode is only available through Python, as is controlling the LED of the sensor. The measurements you take are accurate and repeatable, and the default colors available in the Word Blocks match the colors of the bricks in the box. The element itself is extremely compact, so attaching it to a model won't be a problem.
The kit also includes an interesting Force Sensor, a much better tool than the traditional touch sensor. It detects when a button is pressed, released, or bumped, and can also measure pressure on a scale of 0 to 10 Newtons (up to 1kg).
Thanks to this, the force sensor provides users with a number of completely new ways to use it, for example as scales, or an intelligent bumper for a vehicle.
Expansion set #45681¶
The additional SPIKE™ Prime Expansion Set (#45681) is an interesting product, but not for everyone.
It comes with 604 parts – more than the base set – including 2 electronic components: a Large Angular Motor and a Color Sensor. In the box you will also find useful building parts: turntables, frames of various sizes, different gears, ordinary and curved gear racks, large wheels, beams, axles, various connectors and... a panel for the Raspberry Pi, a programmable single-board minicomputer. Raspberry Pi must be purchased separately.
You also need to come up with means of storage for these parts yourself, because unfortunately, not all elements fit into the box of the base set.
The expansion set will be useful for schools that want to start programming with Raspberry Pi, plan to organize an after-school robotics club, participate in robotics competitions (e.g. First LEGO League), or can otherwise create conditions for students where they creatively build and program robots for several hours in a row. In such cases, buying a few sets will be worth it.
The expansion will not be useful during regular robotics lessons, where a larger number of parts, even chosen wisely, inevitably makes work more difficult and lengthens lesson time.
For an alternative, consider the BricQ Motion series. These sets do not have any electronics, but they offer some advantages. The bricks are compatible with SPIKE Prime, the set comes with its own storage box, and allows you to organize interesting no screen activities.
The final decision which set to purchase, if any, must take into consideration the future plans of the school.
3D-printed parts for SPIKE Prime¶
If you have a 3D printer at school, you can print unique building parts for the SPIKE Prime kit and further expand your classes.
Robotics classes can be easily enriched with learning 3D design. Easily, because the instructions are provided by RoboCamp.
Students get step by step instructions on how to design an element that will allow them to perform additional tasks with the robot. Completed 3D projects are sent to the teacher, who prints them out and gives the unique building parts back to the students for the testing phase with the robot. Clear and simple.
Can you print a new SPIKE Prime set on a 3D printer?
Yes and no. Yes, you can independently design all the building elements and print them in any quantity you want. Unfortunately, it will be costly. More importantly, their durability and detail will significantly differ from the original; if they do fit LEGO studs at all, you can consider the printout a success.
Also, it's not possible to print out working electronic components.
Combining robotics and 3D design is an attainable way for students to use the school 3D printer. One project can be completed during several shorter lessons in a row. Thanks to multimedia step-by-step instructions, everyone knows what to do and how, which greatly facilitates learning. And once you print the models, you can save them for the next group.
Programming¶
SPIKE App¶
SPIKE Prime can be programmed in 3 programming languages available through the SPIKE™ app: the visual Icon Blocks, Word Blocks, and the text-oriented Python.
Before we dive into the capabilities and limitations of each language, let's look at the application, which is the common link of the entire SPIKE™ series, and see what are the consequences of integrating all functionalities in one app.
The SPIKE app is currently available in two versions: downloadable desktop app and online app, which you can use by means of a web browser. The versions are identical in terms of functionality, appearance and content. However, the online app is currently available only in beta version, officially supports only the Google Chrome browser on Chromebooks and has problems with a stable Bluetooth connection, so we recommend the desktop version.
The app works on PC, laptop, tablet, iPad and Chromebook. The programming possibilities are the same on every device, but we really can't recommend writing programs in Python without a keyboard.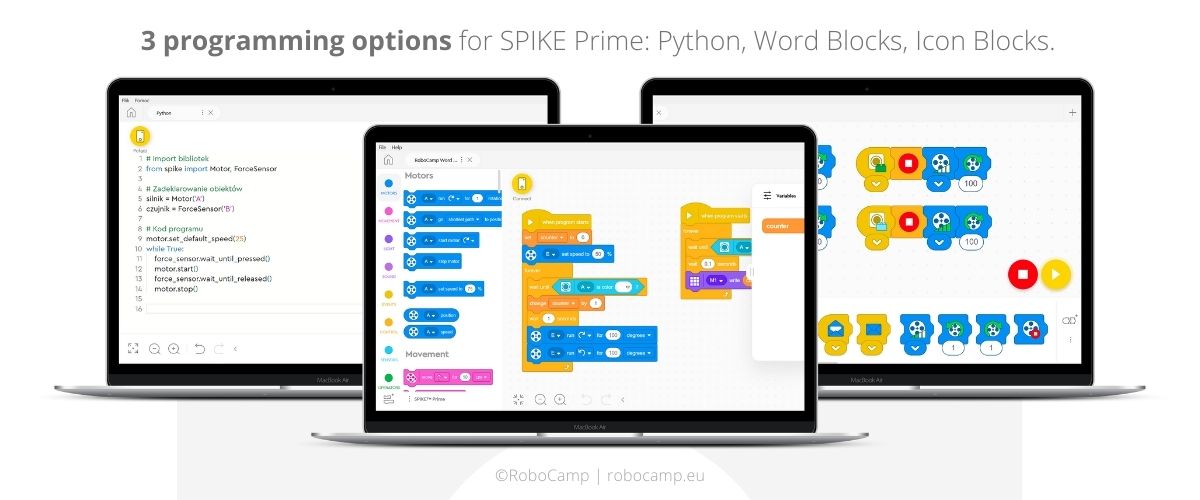 The app takes quite a long time to start, from a few seconds to even 2 minutes. First, you must choose the set you are working with: SPIKE Prime or SPIKE Essential. The pros and cons of the latter are compared in separate review of SPIKE Essential.
The set you select affects the educational materials, as well as the available coding blocks, but you can change it at any time in the upper right corner of the app.
On the left side is the app menu. Start section contains tutorials that explain the basic principles of operation of the electronic components and help you test them out. You can complete the tutorial by yourself, or together with your students. Units and Build sections contain instructions and lesson plans provided by the producer. The next section, My projects, is where you can manage all the programming projects created so far. At the bottom of the menu there's Help section with useful descriptions of word and icon blocks, as well as Settings, where you can e.g. change the language of the app.
Note: Lesson plans by LEGO do not have programming instructions. This part should be additionately explained to students, preferably step by step, as RoboCamp lesson plans do.
SPIKE app is nice and intuitive in use. The interface is aesthetically pleasing, clear and functional, which was not always the case for older programmable products from LEGO Education. The entire interface, educational materials and even help have been translated into polish, which we greatly appreciate on behalf of all teachers in Poland.
The app is good, but not perfect. Startup time is tedious, but it's the hardware requirements that can be a real problem for schools with older computers. Sometimes you encounter errors with hub detection via Bluetooth. The same hub shows in the app twice under two different names.
Icon Blocks have significant shortcomings when it comes to blocks available, as we describe in another article, whereas Python has minimal user support, which we explain below. There's a lot to improve.
Nevertheless, the SPIKE app is still relatively new, and LEGO Education has actually fixed bugs in their previous apps, so we stay hopeful for improvements.
SPIKE desktop app requirements¶
Windows
Intel® Core i3 1.5 GHz processor or better
4 GB RAM
3 GB free disk space
Bluetooth 4.0 or newer
Windows 10 (64-bit), ver. 1803 or newer
macOS
1.5 GHz Intel® Core Duo processor or equivalent or better
4 GB RAM
2 GB available disk space
Bluetooth 4.0 or above
macOS Mojave 10.14 or newer
iOS tablet (click to open)
iPad Air 2 and iPad mini 4 or newer
iOS 13 or newer
Android tablet (click to open)
display 8" or larger
3 GB RAM
3 GB free disk space
Bluetooth 4.0 or above
Android 7.0 or later
Chromebook (click to open)
Intel® Celeron® 2955u dual-core 1.40 GHz processor or equivalent or better
4 GB RAM
3 GB free disk space
Bluetooth 4.0 or above
Chromebook running Android 7.0 or above
access to the Google Play Store
Icon Blocks¶
Icon Blocks is the simplest one of the three coding languages available through the SPIKE app.
Commands are presented as various icons – hence the name – which symbolize the expected result of the command. For young children it is a good way to start coding, to discover that a few commands entered on a computer suffice to interact with the physical world around them.
However, we do not recommend using Icon Blocks with SPIKE Prime. The main reason is the age difference between the target users of these products. While the SPIKE Prime set is designed for kids at least 10 years old, the Icon Blocks language has been designed for younger children who are still learning how to read and write.
The language itself is quite limited and far from perfect, at least now. What's worse is that if students use it to start learning programming, they can develop bad habits, which is exactly what we explain in the SPIKE Essential review.
Therefore, when it comes to Icon Blocks, it's better to stand by for improvements. Instead, we advise you to make a safe bet with the better language for learning programming, that is...
Word Blocks¶
Yes, Word Blocks is the unabashed favorite for learning programming in elementary school. Why?
Let's start with the roots. Word Blocks were created on the base of the gold standard of modern education, Scratch, so they draw on almost 20 years of experience of this award-winning educational tool. The same age recommendations apply: the language works best for children between the ages of 8 and 16. Colorful blocks with text and parameters are stacked together to create programs that will animate robots and other constructions assembled from LEGO elements.
Individual code blocks have different shapes that suggest their place in the program, just like in Scratch. Understanding them is key in creating programs.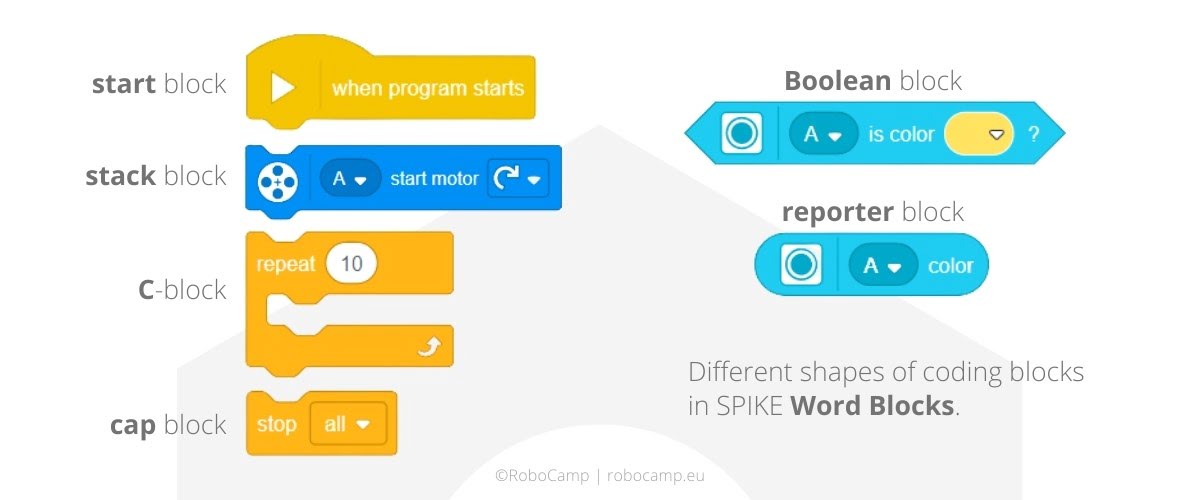 Every script should start with a hat block connected to at least one stack block. Cap blocks end a script. C-blocks represent a loop, or a condition, and have a gap in the middle for additional stack blocks. The last two types must be combined with other blocks to function in a script: hexagonal Boolean blocks contain a condition that can be true or false; rounded reporter blocks hold numeric or text values.
When you create a new project in Word Blocks, you get access to all the default programming blocks, divided into familiar categories: Motors (one motor control), Movement (two motors control), Light (Light Matrix control), Sound, Events, Control, Sensors, Operators, Variables. There is also My Blocks, where you can create a new function from the code blocks available.
Pro Tip: Direction of motion in Movement blocks can be defined in two ways: with arrows or with numbers. Defining the direction with numers is more flexible and more accurate of the two, however, it's impossible to move backwards. This option is available only in the blocks with arrows.
Be sure to make note of this oversight, especially if your students are programming on their own.
You can easily expand this selection by enabling optional categories: Weather Manager, More Motors, More Movement, More Sensors, Music, Line Graph, Bar Graph, or Display. These extensions widen the programming possibilities, for example by using power instead of speed, raw colors, relative position, etc.; they also provide additional visual options, like alternative ways to present data, or to display an image on the screen. You can find them in the bottom left corner of the app, after creating or opening a project in Word Blocks.
Out of three languages available for SPIKE Prime, Word Blocks are the best for learning programming for kids. This is due primarily to its roots, but also to the extensive programming possibilities of the motors and sensors of the kit.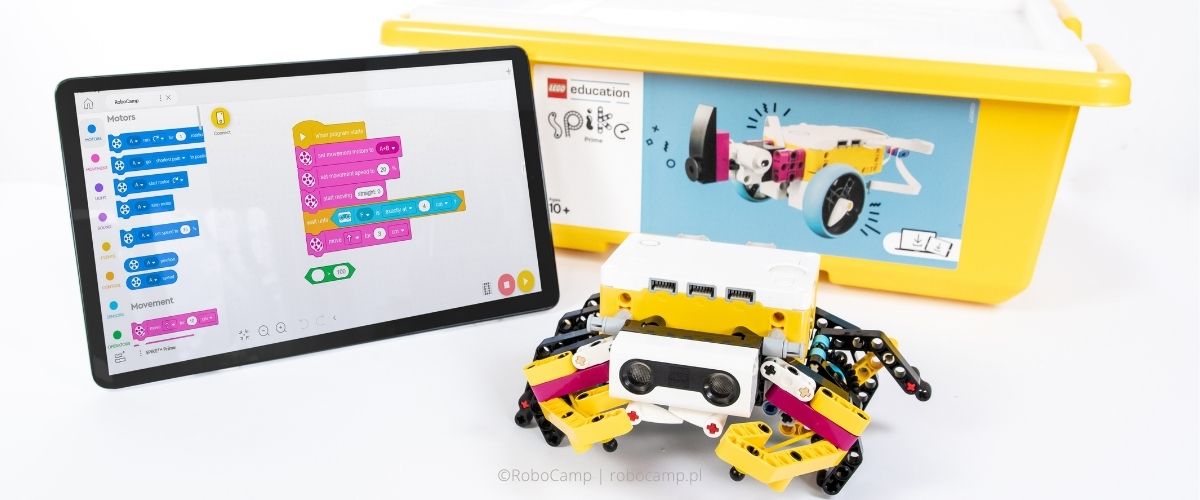 It's full of potential. You can select a port, define speed, position, time and rotation direction of motors. Interesting new option allows your motor to return to a specific position by using the shortest path. Each sensor can be used in at least several ways thanks to the available blocks, and with the Sensors – more extension you can detect raw RGB colors, measure acceleration or angular velocity.
Besides the various possibilities of creating programs, Word Blocks allow users to learn the syntax, that is, the rules governing its individual elements, in an organic way. Different shapes of blocks suggest their possible applications, as do the different shapes of LEGO bricks. Students have the opportunity to write complex and interesting programs with conditional instructions, loops of various types, mathematical operations, variables and lists, which they can find in the Variables, Operators and Control tabs, without having to learn the rules of syntax separately.
The threshold is lower because of this, and the potential of Word Blocks can easily be tapped even by complete beginners.
Moreover, Word Blocks are an important step before Python programming. Students who have previously worked with Word Blocks will learn text-based programming faster, because they already knows the basics. They know what syntax is, what to pay attention to when controlling the flow of the program, they can visualize the program and its individual steps. Without these foundations, learning will take more time and be more difficult.
Together with the fine-tuned interface, Word Blocks are an excellent tool for learning and discovering the potential of programming.

Python¶
The ability to program SPIKE Prime in Python is a surprising and widely praised decision of the producer. In theory, it should expand the programming capabilities of the app, uncover additional functionalities of the kit, and, incidentally, teach children an extremely practical and desirable professional skill.
It is kind of true... to an extent.
What is Python?
Python is a text-based programming language with simple, easy-to-read syntax and wide application possibilities. For each task, Python uses specific libraries of functions. Their quantity and variety are among the main advantages of this language.
According to 2020 Developer Survey Python is the 4th most widely used programming language in the world. It is used mainly for data analysis, system administration, software development, applications, or even programming games, robots, and AI.
Interestingly, Python is also one of the most loved and wanted programming languages in the world.
Introduce Python programming to robotics classes with students aged about 14-16 after several semesters of working with Word Blocks. Additional teacher training will be required.
Python programming in the SPIKE app is done in a special interface with a dedicated library. It contains commands that control the electronic components of the Prime set, grouped into classes. By default, each new program contains a code snippet that imports all SPIKE library classes.
Scroll down to see an example of a short program for SPIKE Prime with explanations.
The main part of the SPIKE app interface is occupied by the programming area, where you write the program code. The console, very useful for debugging, is at the bottom of the interface. On the right side, hidden in the tab, is the Knowledge Base. That's where (not in the Help section) you can find the descriptions of the instructions available in the library for controlling the electronic elements of the SPIKE Prime set, as well as selected Python commands.
When you open the interface for the first time, you should definitely go through the tutorial in the Getting started section.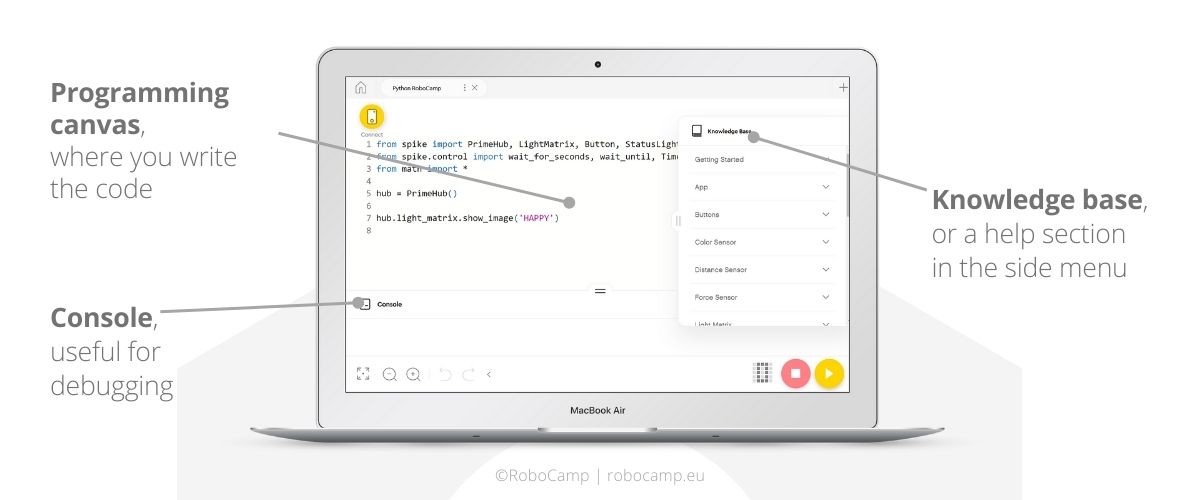 Unfortunately, the information in the Knowledge base is not enough to work with this language. Although the SPIKE library commands, wait instructions and selected mathematical operators are described pretty accurately, there is little to no information about controlling the flow of the program, creating conditional statements, loops, functions, using variables, working with different types of data...
The elementary knowledge about Python is lacking.
Discerning users will find some extra information in the Word Block Translator subsection, where fragments of code written in blocks are "translated" into Python. However, this is not enough to be able to program on your own.
Transition from Word Blocks to Python without any additional support is underwhelming. Even though the interface is user-friendly and clearly suggests how to use it, the programming options available to the user are not as obvious as with the Word Blocks.
One could shift the responsibility for the ensuing bafflement onto Python itself, but in truth, even using the Knowledge Base leaves much to be desired. The tiny size of the tab makes reading difficult, and you can easily get lost in numerous sections and subsections. Difficult to imagine using this aid during lessons with a group of students.
The first steps taken in Python by means of the SPIKE app leave an unpleasant impression of an unfinished product. Nevertheless, once you learn how to write commands and programs, they do work – which is crucial.
Although programming SPIKE Prime robots in Python is not as beginner-friendly as it should be, it is still valuable from the point of view of education. Students can still learn the "real" text-based programming language used by millions of people around the world on a daily basis. They can discover how to use Python at a very young age and draw on this knowledge for years to reach various goals. They can gain an important advantage they might need in their adult lives.
All this is within reach, but the threshold is high at this moment.
Until the producer improves the in-app materials, teachers will have to reach for additional support and complete Python programming courses on their own to fill in the gaps of the Knowledge Base.
But what if you already know how to program in Python? Everything becomes easier. There may be a few small surprises along the way, like the Hub speaker control instructions in the Speaker class and the sound files in the App class, but we haven't encountered any big bugs so far.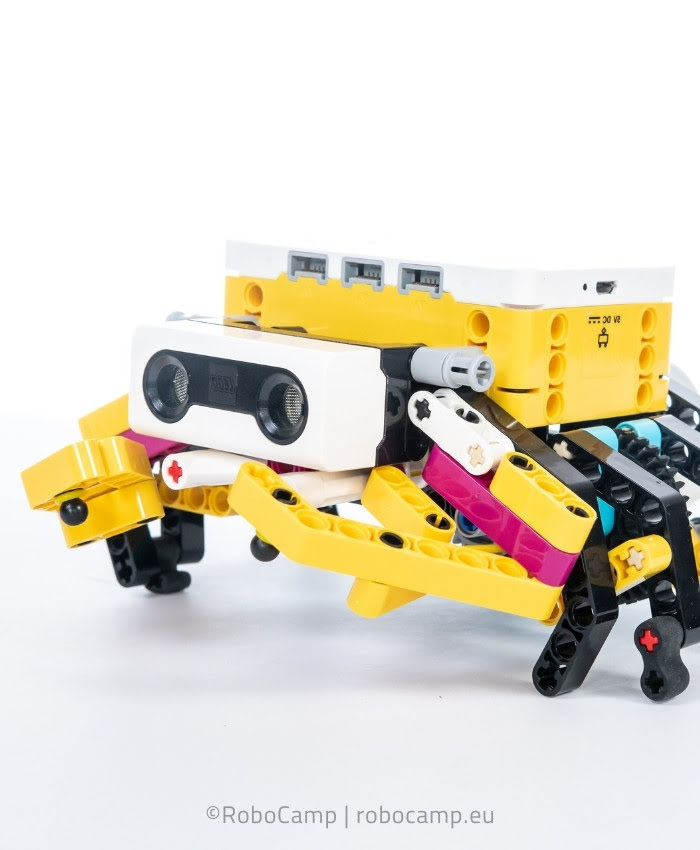 You can start programming right away!
When programming in Python, advanced users actually do have more possibilities of using the electronics of the kit. However, you need significant knowledge and a bit of experience, so experimenting with "undocumented" libraries during the lesson may not be the best option for every teacher.
Enthusiasts of hacking robots are welcome to browse the net for more instructions. Several unofficial guides that uncover additional capabilities of SPIKE electronics, accessible only through Python, have already been created, for example this one about the SPIKE hub.
Program example in Python¶
Python is not as scary as you might think. With just a few lines of code you can write a simple program that activates the motor (port A) every time you press the force sensor button (port B).
Start by importing the appropriate classes from the library. This example makes use of a motor and a force sensor, so you must import these classes from the SPIKE library.
from spike import Motor, ForceSensor
Python is an object oriented programming language, so the next step is to create objects to use in the program. The imported classes are like blueprints for objects. To use them, you must initialize them by creating their copies (objects) and naming them. These copies will be used in the program.
Create two objects: motor (a copy of the Motor class) and sensor (a copy of the ForceSensor class).
silnik = Motor('A')
czujnik = ForceSensor('B')
Time to write the code of the program. Let's start by determining the motor speed. Place the conditional wait instruction (sensor button pressed or released) and motor actions (start and stop) in a loop.
This is how the finished program with the comments should look like:
# Import libraries
from spike import Motor, ForceSensor
# Declare objects
silnik = Motor('A')
czujnik = ForceSensor('B')
# Program code
motor.set_default_speed(25)
while True:
force_sensor.wait_until_pressed()
motor.start()
force_sensor.wait_until_released()
motor.stop()
This program can be used, for example, together with the Gear Puzzle robot – remember to check if the ports match!
The short program above shows why Python is one of the most liked programming languages. The code is concise and legible at the same time, so understanding how the program works is not difficult. When programming, you need to remember about a few additional things, but these tasks should not overwhelm the teacher, or the students.

Conclusions¶
LEGO Education has some good and some worse products in its selection. Most of them have flaws that one often needs to accept and work around during a lesson. Which is why such a positive review of SPIKE Prime is somewhat of a surprise even for us. However, there is strong evidence suggesting that SPIKE Prime is the best learning kit for school produced by LEGO Education to date.
The box does not overflow with building parts, yet their diversity and functionality allow to create plenty of different models, mechanisms, or robots. This produces an advantage for creative students, but also for professional designers, which in turn guarantees teachers a wide selection of interesting teaching materials.
Clever bricks shorten the building time, so a 45-minute lesson is within reach!
Electronic elements allow you to apply various aspects of movement, touch, and even "sight" (thanks to color and distance sensors) in a program. Because the hub has 6 ports, sensors and motors can be used simultaneously, and kids can create truly interactive robots.
SPIKE Prime robots can be programmed visually and textually in a user-friendly application. Word Blocks teach the basics in an accessible way; Python shows what "adult" programming looks like and equips students with real-life skills valuable on the job market. Both programming languages allow you to take full advantage of the electronic elements, although programming in Python requires additional preparation from the teacher.
As a result, the kit is easy to use for teachers and students, has exceptionally durable parts even with intense use, and provides a myriad of possibilities for building and programming. SPIKE Prime really is a comprehensive educational tool for years.
Another advantage is that this kit is part of the LEGO® Learning System. Although one may have reservations about the effectiveness of the system as a whole, the producer's decision to make several different sets compatible means that kids learning robotics finally have a smooth transition between different levels of proficiency. Younger kids can start with the simpler SPIKE Essential robots, then make use of the acquired knowledge to continue learning with SPIKE Prime. Knowledge is not lost, because both sets are compatible with each other and use the same app for programming.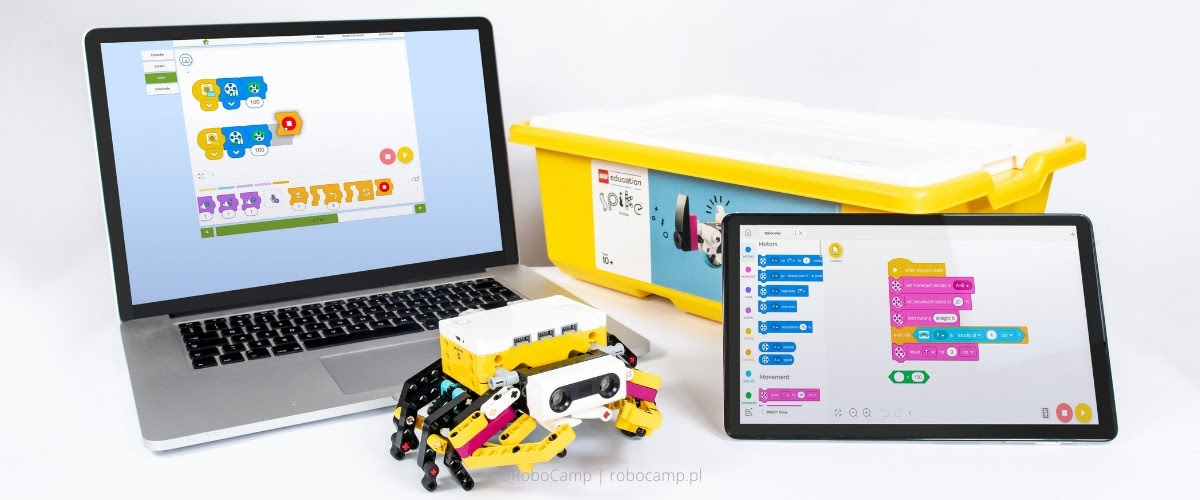 It is clear as day that the team of developers behind the SPIKE Prime has learned from the mistakes of previous educational products, such as WeDo 2.0 or Mindstorms EV3.
Since that's the case, should schools get rid of the older kits? No! They are still high quality educational tools, even if they are no longer officially supported by the producer. Even though in the context of school education the older sets score a little lower overall, they offer unique advantages, such as daisy chaining (EV3) or a very good icon-based programming language (WeDo 2.0). You can read more about them in our reviews.
Before you buy new kits, take a look at the hardware requirements. The SPIKE™ series is compatible with newer hardware and the programming app requires an internet connection. This may be a problem for some schools.
The price of one SPIKE Prime #45678 set is currently $359.95. The cost is comparable to the original price of MINDSTORMS EV3, and is likely to increase. However, after taking into account everything you get with the box, i.e. the number of electronics, the durability of parts, the quality of the app, and the educational possibilities of the set, the price is justified.
During the last two years of intensive testing, the SPIKE Prime kit has become a new favorite of our team. We had the opportunity to build with it creatively for hours, or swiftly with instructions, to create simple and complex programs, to transport the kits en masse by truck and individually by scooter, to sort, lose and find parts – SPIKE Prime has never let us down.
We hope that it will also work well in your school.