Do you already have a robot under your roof? Robotics for children is taking education by storm, and no wonder. There is no other school subject that can offer so much meaningful knowledge in such an attractive packaging. From coding and computational thinking to soft and manual skills – robotics has got your kids covered.
Originally, educational robotics for kids emerged from the homes of tinkering enthusiasts' and after-school programs, so incorporating it into learning at home program should be easy enough. Right?
Undoubtedly, it is easier in some aspects, but homeschool robotics is still a challenge. So if you're thinking about adding robotics to your home curriculum permanently, or want to sample your options in the distance learning era, take a moment to read this article and make things easier for yourself.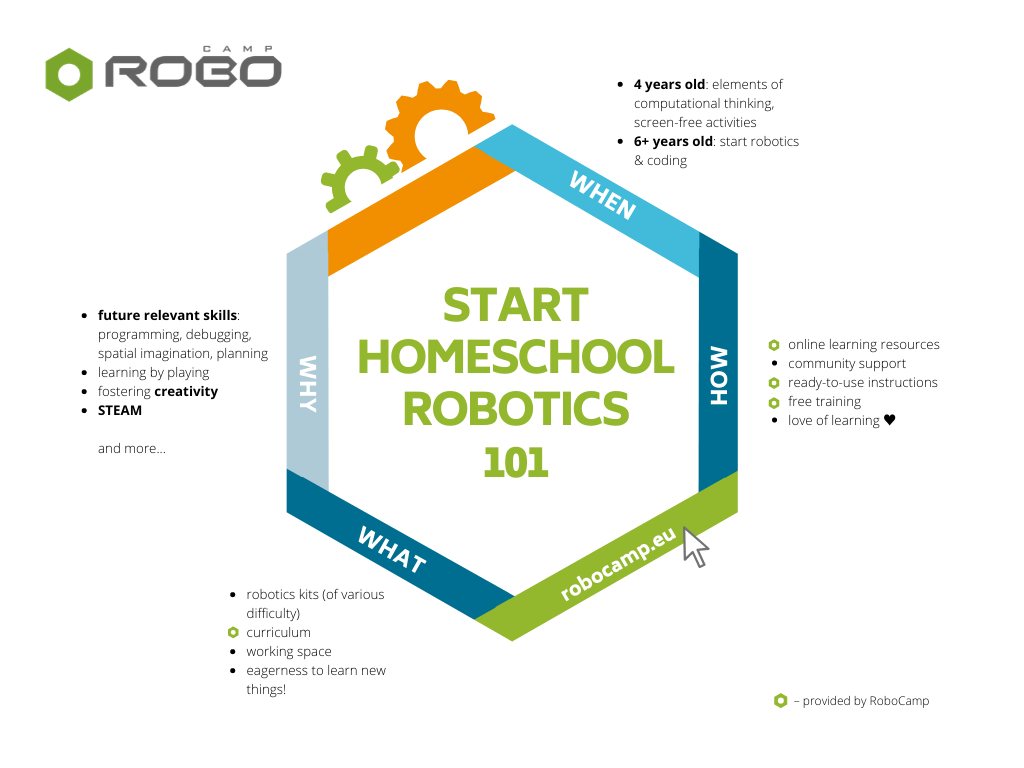 Reasons for starting: Why homeschool robotics?¶
For years now, schools have been trying to put greater emphasis on developing creativity, logical thinking, problem solving and cooperation. Despite the ever-changing reality, these skills do not outdate and allow people to easily adapt to new environments.
- Why kids should learn programming?
Educational robotics develops skills of the future. Digital literacy, computational thinking, debugging, creativity, spatial imagination, and coding are much more than trending edtech keywords. With technology everywhere around us, constantly changing and improving, these universal skills are in demand now. In the future, they are expected to count even more.
Playing with robots today prepares your kids for the future to come.
Consider also the immediate benefits: growing interest in science, developing cognitive abilities, training patience, practising determination, and gaining motivation to learn more in your curriculum. Young kids absorb knowledge like sponges, so this is basically a recipe for their educational success.
Finally, remember that robotic kits are not only for kids. If you've ever felt the urge to tinker with tiny motors, electronics and sensors, now is your chance. In all likelihood, you will even learn something by playing!
If you need more reasons, check out this article, where we explain in detail why teaching kids programming is worth everyone's time.
Robotics preparation: Who is qualified to tinker with robots?¶
You! If this topic sparks your interest, you have already passed the most important test.
Educational robotics is all about learning from scratch, so you don't need any advanced knowledge in the beginning. You just need to know that robots rely on motors to move, sensors to interact with their surroundings, and the dedicated programming language controls them all.
Starter-level robots are quite easy to control and program. Some of them come with tutorials, or helpful guides. Step-by-step instructions with explanations are harder to come by, but work wonders for the learning process, so look out for them. You can also reach out to online homeschooler communities, or support your lessons on ready-to-use lesson plans, like ours. We used to teach robotics ourselves, so we made sure all content is high quality and easy to use.
As your child proceeds to more advanced robotics kits with bare electronics included, you may want to update your knowledge on how to handle electricity and circuits – safety first.
Don't be afraid to start robotics. You will need resources or curriculum to lean on, but this path will be rewarding and enjoyable for both of you. If you need guidance on how to organize and structure the lesson, sign up for one of our free webinars.
Old enough for robotics: When to start coding and playing with robots?¶
The beauty of homeschool robotics is that you can start almost whenever you want. The only 'time' limit you cannot forget about is the age of your child.
Student age is key in robotics.
In general, if your student is six years old, they can start coding. At this early stage however, you will most probably have to divide coding and building into separate activities, simply because a good enough robotics kit for this age group was not yet produced.
Although there's little choice of kits for such young kids, there are plenty of ready-to-code robots. Jump here for a list. Most of them look friendly and cute, which will stimulate your child to interact with them. But even if they look different from outside, remember that most of them have similar possibilities, so buying several models is unlikely to translate into your child's progress.
A more controversial question is: can you begin programming with four-year-olds? To learn coding for kids, you must know how to read, count, distinguish directions and be able to focus on one task for more than 30 minutes. It's tough for a four-year-old to do.
Nonetheless, introducing elements of computational thinking, or creating sequences of tasks to perform is absolutely doable. Heck, it's even screen-free! And since the majority of such products are designed for children and kids to enjoy together, they are perfect for homeschooling.
Most robotics kits sold nowadays have the official age recommendation. Unfortunately, it's not always trustworthy. Before you purchase a robotics kit, try finding impartial reviews about its building and programming possibilities. If you want to read some of RoboCamp robotics kits reviews, go here.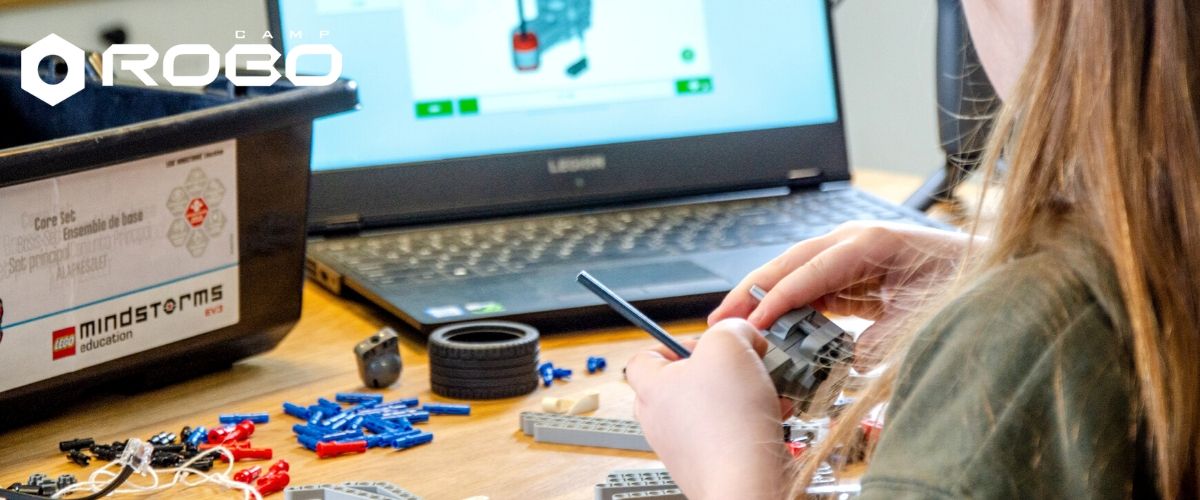 Working space: Where to build and test robots that spin, crawl, jump, run...¶
All robots need a working space to roll on. A smooth, flat surface is best for testing out mobile robots and works great for assembling them, too. You can work on a large desk, but a floor covered with a special rubbery testing mat, or even a large piece of cardboard, will also do the job.
Avoid small, cluttered spaces, because that kind of environment is hard to work in. That's also where parts usually tend to get lost, never to be seen again...
Remember to take the robotics kit into account. Unless it comes with a box for storage and sorting, you will need to fashion a basic storage system to protect more fragile elements and prolong their use. Reuse old boxes at home, or visit IKEA for sturdy (and tested!) SAMLA containers.
Some robotics projects may involve drawing, sticking, launching, erecting mazes and others, so it helps to have staple art accessories nearby. Make sure you have sharpies in black (line following), red and green (color detection), scissors, a bit of string (hoisting), sticky tape and cardboard (obstacle detection).
The process may be messy at times, so protect your furniture if you need to, but the rush of creativity is guaranteed!
Robotics equipment: What are the best robots for homeschoolers?¶
Every robot is slightly different and offers different benefits as an educational tool. Before you're able to pinpoint the best robotics kit for your kid, here's some rules of thumb on how to choose robots for kids.
First of all, very young children should not play with very small parts. Because of safety reasons (as numerous labels have surely warned you), but also because their fine motor skills have not yet fully developed. This hurdle can turn robot building into a frustrating, instead of stimulating, activity. Overestimating a child's skills can easily discourage them from learning.
Picks for very young beginners: Littlecodr, Dash, Photon, mTiny, Robot Turtles, Sphero, Early Simple Machines
Underestimating a child's abilities, in turn, is bound to make homeschool robotics boring. This problem appears already with 7-year-olds. Which is why the option to alter the robot construction, or rebuild it completely, is so important for them. Your young engineer may find a ready-made robot really cute because of its appearance, but is bound to be disappointed, if they cannot dismantle the gears and see the mechanisms hidden inside.
Coding possibilities are equally important. Beginner VPL will be inevitably simple (if not simplistic), but if one robotics kit can be programmed in several programming languages, you can kill two birds with one stone: learn more coding & save more money.
Robots for beginner to medium level students: LEGO® Education WeDo 2.0, SPIKE Prime, Edison, Ozobot EVO, micro:bit, mBot Ranger, LOFI CODEBOX
Homeschoolers on an advanced level enjoy the widest selection of robotics tools. They can opt for multi-robot kits, pick all parts individually, or even create them themselves! But your student must have some previous experience with easier sets, otherwise this level will be just too overwhelming. On a side note, advanced electronics usually can be programmed in text languages, which is a legitimate real-life skill on its own.
Advanced robotics selection: LEGO® Education MINDSTORMS EV3, Makeblock Ultimate 2.0, Tello EDU, and of course – Arduino
When you already have some experience with educational robotics, you can try comparing the possibilities of the kit to your child's current level of skill and knowledge. Pay attention to their preferences. Do they like to assemble complex constructions, or would they rather experiment with programming? Always go with the robotics kit that has enough potential to further encourage your kid's growth.
Shopping list: Everything you need to start¶
If you are tired of theory and have already decided that you want to start robotics right here, right now, you better get that shopping list started. Fortunately, it's not long and you can buy everything online.
What do you need to start robotics at home?
Robotics kit of your choice – and there's plenty!
Rechargable batteries and a charger to power your robot (could be optional)
PC or laptop or tablet to write code for the robot to perform
Dedicated programming environment to make the robot understand your commands
RoboCamp lesson plans to guide you and make learning by playing even more worthwhile
The device you use for programming depends largely on the robotics kit you choose. In general, very young children learn more intuitively with tablets and producers take it into account. On the other hand, whenever programming software is available for both laptops and tablets, it often means that the tablet version is limited.
Whichever you choose, remember that in the long run, PC and laptop offer much more possibilities for growth.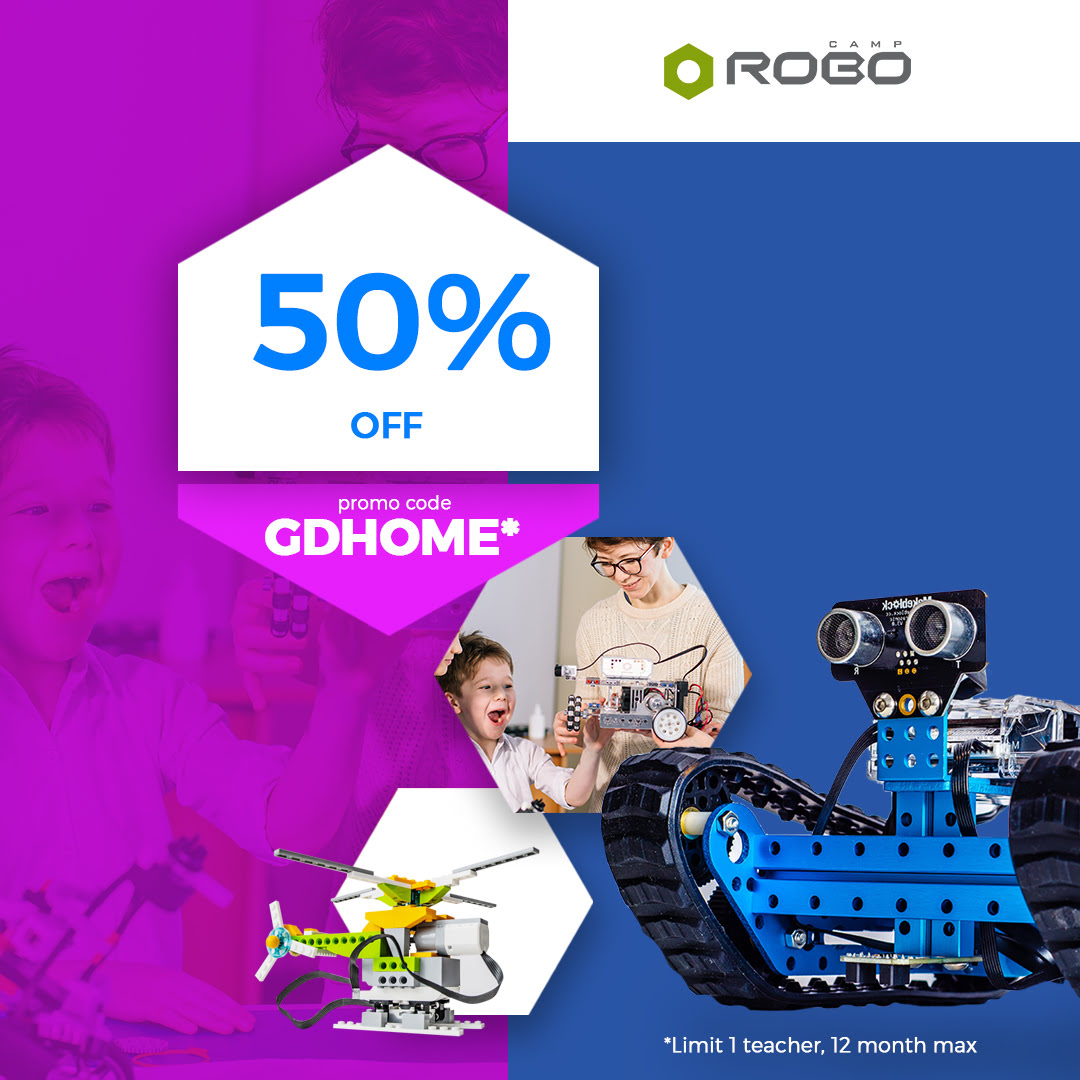 Update 20/03/2020: Many people have been asking us for advice on Facebook on how to make robotics part of homeschool curriculum in times of emergency distance learning. Our team decided to make learning at home easier for you. Now, all homeschoolers get a special 50% discount on RoboCamp resources. And even though we are cutting the price by half, you're still getting access to all RoboCamp lessons. Check our newest additions here.
Just enter the promo code GDHOME when purchasing the subscription. Have fun learning, fellow robotics enthusiasts!
Frequent mistakes: Avoid 3 most common pitfalls¶
From our perspective as teachers, homeschool robotics already solves several persistent problems that school teachers face every day.
Firstly, you are not restrained by the school bell. The possibility to extend your lesson significantly expands the number of projects you can create and the selection of robotics kits you can use. Secondly, even though you must still respect your budget, you have much more freedom to select the equipment that you want. What's more (and perhaps the most important), you can closely follow your student's progress and tailor both the learning material and the equipment to best stimulate their growth.
As you probably expect, however, not everything about homeschool robotics is rosy.
For example, you have more freedom to buy the robots you want, but you will most likely have to buy them more often. Fortunately, you can further the possibilities of the kit you already have (and prolong its use!) with additional learning resources, or a new robotics curriculum. New projects, new robots can make your child see the kit in a new light and stimulate their creativity.
The next obstacle may be more difficult to overcome. Robotics projects created in pairs, or small groups, allow children to develop social skills, improve communication and practice working towards a shared goal. Some kids even learn faster this way. Nonetheless, homeschool robotics can occasionally involve working in groups. Consider inviting other kids interested in robotics for a co-op robotics session. Teamwork for the win!
As you progress, you will inevitably work with various robots and discover that not all of them are equally reliable. Electronics may fail, or worse, show inaccurate readouts. Parts can wear out, break, or just be faulty due to manufacturing errors. In some cases, the code doesn't translate into actions the way it's supposed to. Unfortunately, there is no simple solution here. Read in-depth equipment reviews, ask community or experts for advice, and don't be afraid to return faulty kits.
Finally, don't forget that mistakes are an essential part of the learning process, so don't be too hard on yourself and enjoy this educational ride.